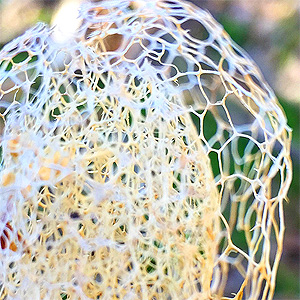 LOOK: Tropical Tessellations

in Olbrich Botanical Gardens, 3330 Atwood Ave, Madison, WI
The exhibit opens on February 16 and is open through March 24, 2019.

Walk through the tropical conservatory and experience the exhibit with the artist on:
Thursday, February 28, 6-7pm
Thursday, March 7, 9-10am
Saturday, March 16, 4-5pm

Participate in a hands-on workshop exploring tessellations in nature. Everyone will make a small sculpture under guidance of the artist on:
Tuesday, March 12, 6:30-8pm

The metal pieces developed for this exhibit are based on observation of natural tissues of plants, packing seeds in fruits and other natural materials. On the left, is a dry seed pod of common Wild cucumber (Echinocystis lobata).